RATES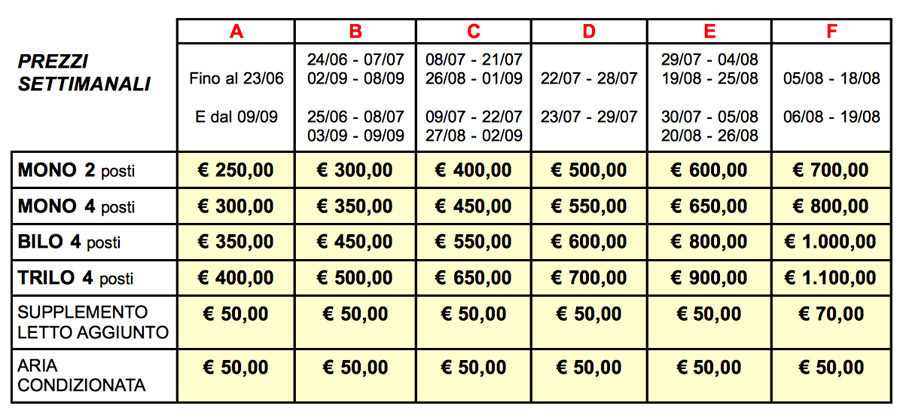 The prices above don't consider the tourist tax of 0,60 euros per person, up to a maximum of 10 days and children are excluded as per the sanction n° 41 del 31/08/2011of Vieste administration.
THE PRICES INCLUDE all the bills and services: gas, electricity, cold and hot water, strong box, satellite tv, one parking place for each room, private beach ( beach umbrella and 2 sun bed for each room) at Village Baia Falcone beach ( 1000 mt far from the Tourist Village, except E period), bus service from/to the beach. Therefore it is possible to use all the swimming pools of the Tourist Village, children games, barbecues outside each building, laundry service and all the services offered by Falcone Village (bar, restaurant, pizzeria, court for various sports with synthetic grass, entertainment during July and August, private beach). Windsurf and kitesurf school associated ( 1200 mt fart from the Tourist Village and 150 mt from our equipped beach): we reserve a special treatment for all the clients offering a bus service residence-school for good prices).
SUPPLEMENTS: air conditioning € 10,00 for each day for every flat, need a confirmation while booking. € 5,00 a day for second car parking, bedding € 6,00 per person for change and sheets change for € 6,00 per person; cradle € 50,00 per week. It's also possible to use a laundry service for € 6,00. Final cleaning 25,00 per studios and two-rooms apartment, 35,00 euros for three-rooms apartment; in case of extreme mess we will take 30,00 euros from the deposit (€ 100,00). Every apartment is well furnished including cutlery for the kitchen (except coffee maker, bed, bath and kitchen linen), fridge, table, chairs, bathroom with shower and TV.
BOOKING: a reservation will be considered valid if once booked, you will pay in advance (maximum 10 days) the 30% of total in order to secure your stay. Check-in and check-out available from Saturday to Saturday or from Sunday to Sunday. The total will be paid at the arrival even if you arrive late or if you need to leave in advance.
ARRIVAL AND DEPARTURE: delivery of apartments from 17:00 to 20:00 of the arrival day; on the last day it's important to leave the apartment before 10:00. In case of late arrival the apartment will be kept available by 21:00 of the day after the effective arrival, except previous communication; on the contrary Management team will feel free to rent the apartment without refund.
SURRENDER: if you need to give up your stay, the deposit will be refund only if you communicate it to the Village by registered mail, 30 days before the beginning of your stay already booked. After that date you will lose the deposit without any refund.
NB: you must respect what declared during your reservation in terms of number of people including children. Relatives and friends can visit you (only after the delivery of documents) for two hours: if this time will be exceed, the cost of the entire day will be charged.