Tourist village with swimming pool for beach holidays in Vieste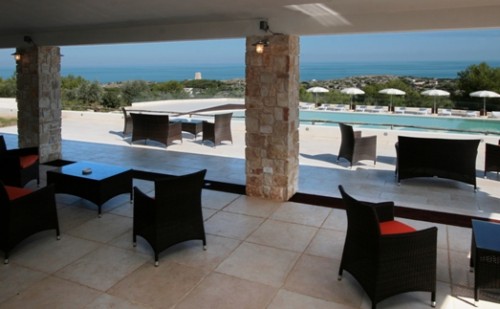 Per trascorrere le vacanze a Vieste, in una delle più belle baie del Gargano, vi proponiamo le nostre strutture di diverse tipologie, posizionate in luoghi strategici, per godere di tutta la bellezza del Gargano. Siamo lieti di presentarvi il Gruppo GT Falcone, che gestisce 5 strutture, tra le più apprezzate della zona, dove tutti gli Ospiti vivono momenti indimenticabili e trascorrono le più belle vacanze sul mare.
A disposizione di chi vuole soggiornare in un hotel, l'Hotel Falcone e l'Hotel 2 Mari. Le due strutture, posizionate a Vieste, vi offrono i servizi necessari a rendere le vacanze rilassanti. Non manca il servizio bar, ristorante, una spiaggia privata ben curata e attrezzata, e una piscina per quelli che al caos della spiaggia preferiscono il relax offerto dal nostro specchio d'acqua.
Per i più avventurieri, che amano la vita all'aria aperta e amano soggiornare in campeggio, il Camping Village Baia Falcone è il luogo ideale. Un campeggio che offre la classica formula del campeggio, camper o roulotte, o bungalow in muratura. Non mancano i migliori servizi per un soggiorno comodo; il nostro è un campeggio adatto anche per le famiglie, perchè offre i migliori comfort.
Il soggiorno al Village Gli Stingi è particolarmente indicato per le famiglie con bambini, e i piccoli hanno a disposizione ampi spazi dedicati a loro per divertirsi. Nel Villaggio Gli Stingi posizionato in una collina, c'è a disposizione una piscina con vista mare ed una panoramica stupenda per rillassarsi.
A nord di Vieste si trova la nostra ultima struttura: il Villaggio Il Falco dove troverete il comfort che cercate e trascorrerete una vacanza incantevole. Tra i numerosi servizi, troverete camere arredate con gusto e davvero molto accoglienti e comode, una piscina con area idromassagio, spiaggia privata, ristorante ed altri servizi che scoprirete durante il vostro soggiorno nel villaggio.
Vi aspettiamo!
To spend your holidays in Vieste, in one of the most beautiful bays of the Gargano, we offer our structures of different kinds, located in strategic places, to enjoy all the beauty of the Gargano. We are pleased to introduce you to the GT Falcone Group, which operates 5 facilities, among the most popular in the area, where all guests experience unforgettable moments and spend the most beautiful holidays by the sea.
Available for those who want to stay in a hotel, Hotel Falcone and Hotel 2 Mari. The two structures, located in Vieste, offer you the services necessary to make the holidays relaxing. Do not miss the bar, restaurant, a well-groomed and equipped private beach, and a swimming pool for those who prefer the relaxation offered by our body of water to the chaos of the beach.
For the adventurer types, who love the outdoors and love to stay in camping, the Camping Village Baia Falcone is the ideal place. A campsite that offers the classic formula of camping, camper or caravan, or masonry bungalows. Do not miss the best services for a comfortable stay; ours is a campsite suitable also for families, because it offers the best comforts.
The stay at  Village Gli Stingi is particularly suitable for families with children, and children have plenty of space dedicated to them to have fun. In the Gli Stingi Village located in a hill, there is a swimming pool with sea view and a wonderful view to relax.
North of Vieste is our last resort: Il Falco Village where you will find the comfort you are looking for, and spend a lovely holiday. Among the many services, you will find tastefully furnished and very cozy comfortable rooms, a swimming pool with hydro-massage area, private beach, restaurant and other services that you will discover during your stay in the village.
We are waiting for you!