Village Gli Stingi
Gli Stingi Village is a suitable compound located on a wonderful hill into the Mediterranean nature made of olive trees and Aleppo pine trees. Far from chaotic cities, Gli Stingi Village is a total relaxing and peaceful place that make regenerate yourself thanks to the contact with nature that surrounds all the compound.
Don't miss the beautiful swimming pool with beach umbrellas and sun beds that make you feel like on the beach. This swimming pool takes place in one of the most striking sea overviews of the compound from blue to green natural colours.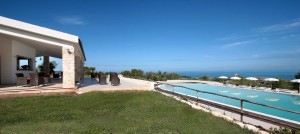 All the accomodation at the Village in Vieste is suitable and provides all the comfort with simple furniture , tv, small cooking for your independence during long holidays. A wide and comfortable area lounge with sofas where drinking some good wine, listening to music and having a wonderful overview. This area offers also a bar service where you can eat some snacks o you can do our traditional "aperitivo" and then relaxing after dinner.